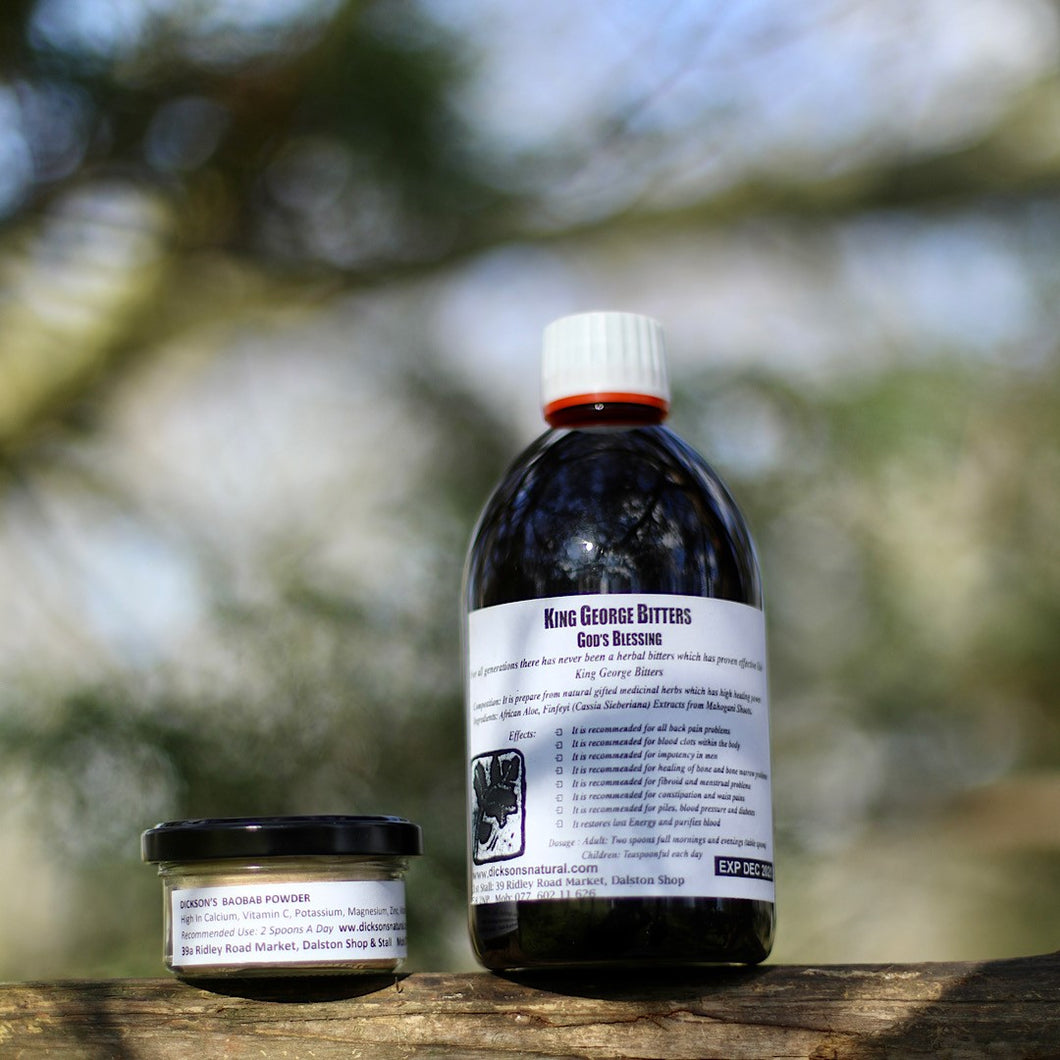 Dickson's Natural Menstrual Set
Regular price £25.00 Sale
Menstrual Bundle Pack contains King George Bitters & Baobab Powder
         This is perfect for
Menstrual cramps

Irregular periods

Regulating flow

PMS*
*Premenstrual syndrome is the name for the symptoms women can experience in the weeks before their period. Symptoms of premenstrual syndrome include mood swings, tiredness, stomach pain, headaches, and spotty skin.
Baobab Powder is high in Vitamin C, Vitamin B6, and Vitamin B3 which has been linked to increasing progesterone and balancing estrogen. It is also high in many other nutrients that can be used as a health supplement.
Baobab Powder Recommended use: 2 tablespoons a day incorporated into a meal, bake, juice or smoothie!
Tastes... mild citrus
- Anti-inflammatory
- Promotes blood circulation
-Great for detox
-Cleans our system
-Helps to regulate sugar and hormone levels
Traditional Bitters has been used for centuries to help improve overall internal health including external skin & hair!
Ingredients: African Aloe, Cassia Sieberiana, Mahogany Shoots Extract 
Recommended use: Adults take 2 tablespoons morning before food and 2 tablespoons in the evening after your last meal. For children over 3 years old, 1 teaspoon a day either morning or evening.
Please note that bitters have a laxative effect
Whilst on the bitters we recommended not eating bread (due to yeast), and if you are not vegan, no dairy and no meat (due to enzymes). 
Please note if you have any medical concerns, please consult your medical professional. Bitters is a natural health supplement that can be taken with your medication. Please consult your GP if unsure. All ingredients are natural and do not have adverse effects.
We also recommend you drink plenty of water throughout the day and eat your greens!
Tastes...

 

bitter, but it's worth it! 


500ml bottle